"It's a work in progress, bro."
—Cody Maverick[src]
This article is a stub. Not all information has been covered about this subject. You can help by expanding it!
Cody Maverick is an amateur-turned-professional surfer and a resident of Shiverpool, in Antarctica.
Appearance
He is a small, black and white rockhopper penguin with yellow spiky feathers on his head. He has brown eyes and wears a necklace with a "Z", it stands for from Big Z.
Personality
Biography
Early life
Cody was born to Bob and Edna Maverick. Before Cody was born, his father was eaten by a killer whale.[1]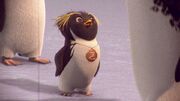 When Cody was young, infamous surfer Big Z visited Antarctica. Cody made his way to the front of the group, where Big Z gave him one of his trademark necklaces, inspiring Cody to pick up surfing.[1]
Surf's Up
Coming soon!
Surf's Up 2: WaveMania
Coming soon!
Gallery
Trivia
For reasons unknown, Cody does not wear his necklace (given to him by Big Z) in the sequel. This could be that the creators forgot to add it or Cody decided not to wear it at the time.
In Spyro Reignited Trilogy, rockhopper penguins found in Colossus have a similar appearance to Cody.
References
Community content is available under
CC-BY-SA
unless otherwise noted.